CRPE has a history of producing
transformational research
The Center on Reinventing Public Education (CRPE) is a research organization at Arizona State University's Mary Lou Fulton Teachers College where transformative ideas are rigorously examined and tested, and research informs action. We are truth tellers who combine forward-thinking ideas with empirical rigor. Since 1993, we have been untethered to any one ideology but unwavering in a core belief: that public education is a goal—to prepare every child for citizenship, economic independence, and personal fulfillment—and not a particular set of institutions.
From that foundation, we work to understand what it will take for public education to meet the needs of every student, in order to inform meaningful changes in policy and practice.
Our current research explores four broad topics: 
Students and families: We work to understand what students and families need from their  education system. 
Systems: We examine the inner workings of schools, districts, and state governments, delivering insights into how our education systems work to meet the needs of students, families, and communities. 
Innovations: We identify promising initiatives outside the traditional education system that have the potential to radically improve teaching and learning.
Politics of change: We study the critical role of politics in determining whether school systems deliver on their promise, and explore the ways public officials, school system leaders, and change-makers can factor political thinking into their strategies for improving education. 
By partnering with Arizona State University's Mary Lou Fulton Teachers College, a leader in designing the next education workforce, we are uniquely positioned to produce evidence and ideas that lead the country toward an education system that meets the needs of every student. Over the next five years, we aim to be the go-to source for defining a clear vision and high bar for successful post-pandemic recovery, tracking progress toward that vision, and testing bold ideas for students.
CRPE was founded by Paul T. Hill in 1993 to explore how public oversight and funding could be made compatible with school effectiveness. For two decades, CRPE focused on the portfolio strategy, in which education and civic leaders develop a citywide system of high-quality, diverse, autonomous public schools by placing educators directly in charge of their schools, empowering parents to choose the right schools for their children, and focusing school system leaders on overseeing school success.
Our founding book, Reinventing Public Education, first outlined the portfolio model, which was later adopted by districts in New York City, New Orleans, Denver, Indianapolis, and other cities. 
CRPE, a self-sustaining organization funded through public and private grants, was originally based at the University of Washington's Evans School of Public Policy, and moved to UW Bothell in 2012. In 2022, CRPE began a new partnership with the Mary Lou Fulton Teachers College at Arizona State University.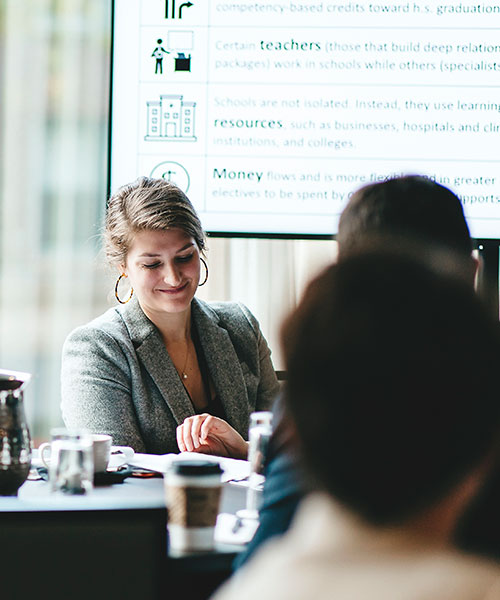 Equity: We are committed to an ongoing and active fight against racism and injustice
At CRPE, we believe inequities are hard-wired into today's public education system in both obvious and insidious ways. Students from low-income backgrounds, students of color, students with special needs and others who have been marginalized are systematically excluded from opportunity and a full realization of their potential. But this need not be so. 
Our work aims to bring the firepower of data and evidence to expose those dynamics and discover solutions, including solutions that fundamentally challenge existing institutions and power structures.
CRPE has always invited parent and community advocates to advise and challenge us to act with urgency and in the direct interests of students and families. We believe diverse viewpoints and disciplined intellectual debate make us more effective in achieving our mission. We believe in uplifting and enabling innovations that arise from resilient and marginalized communities.
We recognize that overcoming structural bias and racism within public education requires ongoing personal and organizational interrogation and commitment, including intentionality about how we conduct our research. As we work to reimagine school systems of the future we consider equity a design principle, not an afterthought.
We are not tepid about the implications of the evidence in front of us. We will seek out opportunities to make ourselves uncomfortable. We will be brave, honest, and authentic, whether the truths are simple or complex, with the ultimate goal of striving for equity within all aspects of public education. 
When I was superintendent in Milwaukee, Paul Hill's book Reinventing Public Education gave me a vision of how public schools could work for all kids. As I've fought for choice over the years, CRPE's work keeps giving me new ideas about what's working and what needs to be tried to make a powerful education possible for every kid.
CRPE has made a real difference, both in what policymakers consider and do and in how other researchers approach their work.
CRPE operates at the nexus of research and practice—and that's what makes it so valuable to policymakers and practitioners alike. The recommendations are clear, actionable, and rooted in real studies of what works, what doesn't, and why. It's been a go-to source for me for—well—20 years.
We produce world-class, peer-reviewed research that's interesting, significant, and trustworthy.
We look around the corner, comment on relevant issues, and propose new ideas.
Through our Big Think and Portfolio networks, we learn from city, state, and nonprofit leaders in their communities and we inform their work with evidence.